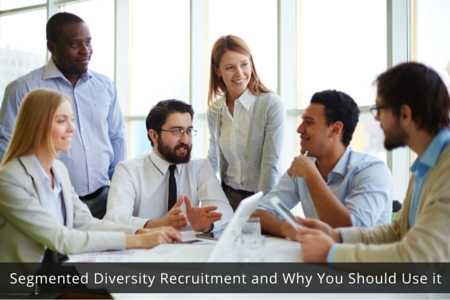 Everybody knows by now how important it is to have a diverse workforce; one that reflects your customer base and the population at large. A worrying number of companies in the past have approached the problem of how to recruit for diversity from a defensive, legal compliance position, rather than it being the right thing to do. Now though, new research from McKinsey makes it increasingly clear that companies with more diverse workforces perform significantly better financially.
They have also shown that diverse companies are more able to attract the best talent and improve employee engagement and decision making which leads to a virtuous circle of increasing returns. This in turn suggests that other kinds of diversity like age, sexual orientation, and experience are also likely to bring some level of competitive advantage for companies that can attract and retain such diverse talent.
Perhaps with an eye on the bottom line, a growing number of companies are making diversity recruitment more of a priority and beginning to question whether they are approaching it in the best way.
What is Diversity?
A positive approach to diversity allows you to select the best person for the job based on merit alone and free from bias on the grounds of factors such as age, disability, gender or race that are not relevant to the person's ability to do the job. Diversity recruitment stems from The Equality Act 2010 which protects people in employment from discrimination, victimisation, harassment or any other detriment because of any of the following 'protected characteristics' – disability, gender reassignment, marriage or civil partnership, pregnancy and maternity, race, religion or belief, sexual orientation, sex (gender), and age. Legislation covers direct and indirect discrimination, as well as discrimination by association or perception.
The legislation encourages employers to take positive action to ensure they can recruit and retain people from under-represented groups as long as this does not mean less favourable treatment for other people.
For instance:
Including statements encouraging applications from under-represented groups.
Targeting advertising to reach under-represented groups.
Promoting employment opportunities at job-fairs and open days in under-represented communities.
Encouraging more 'women and family friendly' flexible-working patterns.
But positive discrimination, treating those from under-represented groups more favourably to the exclusion of others, is not lawful.
Most corporations large and small use a one-size-fits-all approach with diversity recruiting. This means that they recruit each of the protected groups with the same recruiting approach, as if they were one homogenous group. The clue is in the name, as the word 'diversity' indicates that these groups are different, but nothing in the word infers that these groups are all different in the same uniform way. If your organisation wants to attract more women to senior roles for example, it makes no sense to use the same approach used to attract disabled workers or those from a specific ethnic group.
Segmented Diversity Recruitment
This is where the idea of segmented diversity recruitment comes in and it is borrowed from marketing, which has been successfully using Diversity Marketing techniques for years. Diversity marketing uses data in order to customize a firm's product marketing approach so that it fits the unique needs of each of the small segments of a larger diverse customer group. Fortunately, most of the marketing techniques can be applied directly to diversity recruiting.
After identifying the different diversity subgroups to be targeted, segmented diversity recruiting uses data acquired through candidate research to discover the essential information that is necessary in order to tailor a recruiting approach to a particular diversity segment. This would normally include the following and will often be unique to that group:
How each subgroup searches for a new job.
The reasons members of a subgroup become initially interested in a firm.
The factors that will encourage them to apply for a job.
The criteria that will enable them to accept a job offer.
The data-driven approach identifies what works for recruiting each of the many diversity subgroups, and because the needs and expectations of the different subgroups are constantly changing, so data can help continuously modify the approach in order to improve results.
The Best and the Worst
An example of a successfully diverse company is the Camden Property Trust and they appear at the top of the 50 Best Workplaces for Diversity (in the US). The table below shows the impressive breakdown of their workforce:
Diversity
Race and Ethnicity Groups
% of Women
45%
% African-American/Black
12%
% of Women in Executive Positions
31%
% Asian
2%
% of Women in Manager Positions
72%
% Hispanic/Latino
35%
% of Minorities
49%
% Native Hawaiian/Pacific Islander
0.52%
% of Minorities in Executive Positions
3%
% Two or More Races
2%
% of Minorities in Manager Positions
27%
% Caucasian/White
48%
Not surprisingly, they have also been voted a great place to work generally.
Best Workplaces for Diversity 2015 (ranked 1)
Great Workplaces for Women 2015 (ranked 40)
100 Best Workplaces for Millennials (2015) (ranked 24)
Fortune's 100 Best Companies to Work for® 2015 (ranked 10)
These results prove it is possible to successfully recruit a diverse workforce even though there may be more work to do at the executive level,  but by shocking contrast, Google and Facebook should be hanging their heads in shame. With Facebook, in 1,200 hires, only 7 were black. The proportion of Asian workers at Facebook increased from 34% to 36% during the same period while the number of Hispanic, black and those of "two or more races" remained at four per cent, two per cent and three percent respectively. Google is also continuing to struggle with diversity as a new report shows just 18% of tech jobs go to women, while black and Hispanic workers make up just five per cent of their US workforce despite a $150m investment to correct these shortcomings.
There is clearly a great deal more to be done. Even though customized segmented diversity recruiting is more time-consuming and expensive, the extra costs are minimal compared to the tremendous loss in revenue that can occur when the product design, sales, and customer service staff don't reflect the diversity makeup of current and future customers. Dr. John Sullivan, an internationally known HR thought-leader who has written numerous books on talent management, estimates that you can improve diversity recruiting results by as much as 40 percent by using segmented diversity recruiting. If the success of the Camden Property Trust is anything to go by, it is well worth it.
At Chapple we specialize in sourcing candidates in external and internal communications, employee engagement, change and business transformation roles.
Contact us on 020 7734 8209 for more information about how we can help you find your next role or indeed find the right people for your business.