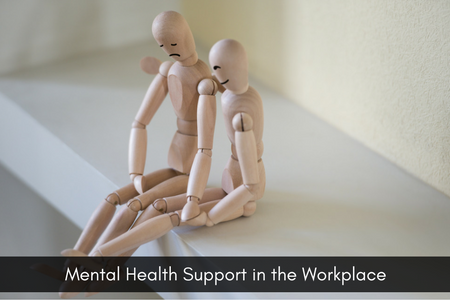 Following on from last week's World Mental Health Day, it seems like a good time to take stock of how we manage mental healthcare in the workplace here in the UK. World Mental Health Day, an ambitious project run by the World Health Organisation, is held on 10th October every year, with the overall objective of raising awareness of mental health issues around the world and mobilizing efforts in support of mental health.

Where we are now
Our approach to mental health in the UK has improved enormously over the last decade but when Business in the Community (BiTC) carried out a report this year called Mental Health at Work; they still uncovered some very uncomfortable facts:
77% of employees have experienced symptoms of poor mental health at some point in their lives
62% of employees attributed their symptoms of poor mental health to work or said that work was a contributing factor
35% of employees did not approach anyone for support the last time they experienced poor mental health
Only 11% of employees discussed a recent mental health problem with their line manager
76% of line managers believe they are responsible for employee wellbeing, but only 22% have received training
The BiTC have come up with a three step call to action for employers:
1.Talk– break the culture of silence that surrounds mental health by taking the Time to Change Employer's Pledge
2.Train– invest in basic mental health literacy for all employees and first aid training in mental health to support line manager capability
3.Take action – close the gap by asking all staff about their experiences in order to identify the disconnects that exist in the organisation between what you have committed to and what your employees are experiencing
Many companies have taken the Employer's Pledge including Lendlease, Tesco and the Bank of England. To mark this year's World Mental Health Day, the Bank of England released a short film featuring staff sharing their mental health experiences. This film is impressive, moving and surprising in that it comes from the ruthless, cut and thrust world of the City, but it is taking an admirable lead on such a difficult issue.

Training needs
Going back to the statistic from BiTC, where 76% of line managers believe they are responsible for employee wellbeing, but only 22% have received training, it is presumably the responsibility of Human resources to initiate a company wide approach to the issue. But what about the HR managers? What if they suffer from mental health problems too?  How easy is it for them to come forward and admit to having problems? People Management invited three experienced HR practitioners to describe what it is like living with a mental illness in the hope that they can contribute to reducing the stigma of talking about mental health problems at work.
Colin Minto, one of the HR professionals in the article has also set up a LinkedIn group, Mental Health In Business, at bit.ly/MHIBgroup for people with a condition, or an interest in mental health challenges, to share stories and celebrate difference.

Positive developments
An initiative run by Vitality Health Insurance aimed at encouraging an improvement in workplace health and wellbeing, runs an annual survey completed by both employer and employees giving a comprehensive view of the health of the working Britain. Winners are given the title of Britain's Healthiest Workplace but it also recognises those companies who have improved the most from the previous years.
Since its inception in 2013, over 400 companies and 100,000 employees have taken part in the study. Previous winners include organisations such as Johnson & Johnson, Microsoft, Adidas UK, Quintiles and Nomura.
Wellbeing in the workplace is not only good for the individual employee but it is a business critical issue. A healthy and happy workforce contributes to the economy by increasing business productivity and also reduces the strain on the NHS. According to the ONS, Mental health is now the largest cause of absence at work, with more than 15 million absence days attributed to stress, anxiety and depression in 2013, and also accounts for a significant percentage of presenteeism (working while sick). The Centre for Mental Health calculated that presenteeism from mental ill health alone costs the UK economy £15.1 billion per annum, while absenteeism costs £8.4 billion.
A Yougov poll showed that anti-depressant prescriptions in Britain have doubled in the past 10 years and suicide rates for men have increased since the recession and is now the leading cause of death for men in England and Wales under 45. These worrying statistics could be attributed in part to the fact that pressure on organisations and their employees has risen almost exponentially in recent years – mobile technology, financial pressures, reduced workforce's all contribute to workplace related stress, anxiety and depression, conditions which have been particularly acute in public services in recent years. The impact of workplace culture on employee wellbeing is vital to assess if organisations are to improve employee absenteeism and retention.

What next
Clearly, a great deal is being done to improve the mental health of the UK workforce but it is also clear how much further we need to go. Most organisations now recognise that improving employee engagement and wellbeing produces a productive workforce but it is still too often thought of as an optional extra and the first to suffer in budget cuts.
The Business in the Community Wellbeing Strategy is a very good place to start for any organisations that are looking to improve their approach to health and wellbeing in the workplace and provides much needed practical support, taking a strategic, proactive approach to wellness and engagement. So maybe on next year's World Mental Health Day we will hopefully see a significant reduction in the level of mental ill health in the workplace and beyond.
At Chapple we specialize in sourcing candidates in external and internal communications, employee engagement, change and business transformation roles.
Contact us on 020 7734 8209 for more information about how we can help you find your next role or indeed find the right people for your business.