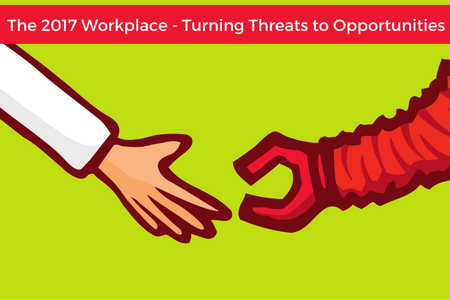 We're at that time of year when we start to see a plethora of articles predicting the next big thing and how the New Year is going to change the way we work. Often they make grim reading, as anything new is seen initially as a threat until proven otherwise. But it doesn't have to be this way. Change is inevitable and most threats can be turned into opportunities if looked at from a different perspective.
We have identified six of the latest 'threats' and explore how they can be turned around to be welcome opportunities for employees and organisations alike.
1. Talent
There is a talent shortage currently, of that there is no doubt. The threat for 2017 is that it will reach crisis point. Productivity will be at stake and current employees will struggle to cope while trying to cover for staff shortages.
Reassessing a company's talent management and recruitment strategy to cope with the crisis can reap unexpected rewards. For example, Stephen Lochhead, Global Talent and Organisational Development Director at Standard Life, during a recent Management Today round table discussion, gave an illustration of an organisation where he had worked which had around 4,500 people sharing content online reaching 81 million people every year, and was directly accountable for influencing 800 people to join the company.
According to LinkedIn research, organizations with strong consumer brands and strong employer brands see 36% five-year growth, while those with only strong employer brands or only strong consumers brand see 10% and 28%, respectively. Combining the power of employer and consumer brands together is the key to a sustained growth.
2. Mobile
'Mobile' can refer to a mobile workforce or the increased use of mobile technology both for flexible working or looking for and applying for jobs. One can lead to another but, either way, but are they a threat or an opportunity?
Taking technology first, it is clear over the last couple of years that work is no longer a place you go to but rather, it is something you do, regardless of location. Organizations that have supported mobile enablement for their staff are seeing improved employee satisfaction, retention and attraction of new talent and increased productivity.
Secondly, a more mobile workforce threatens the traditional management structure in that employees are harder to keep track of and communicate with and possibly trust. However, the advantages balance out the threats as capital costs of office space and accompanying overheads are reduced.
The threat is not being able to keep up with tech developments, but if you can, the opportunity is there to attract and retain employees by offering mobile enablement. The older workforce remains less impressed by mobile offerings but everyone appreciates choice and flexible working appeals to all generations.
3. Agile Business
Business agility is the "ability of a business system to rapidly respond to change by adapting its initial stable configuration".  For any business, it is vital to be able to adapt quickly to external and internal changes and take advantage of any opportunities that are offered.
Clearly, a constantly changing workplace is as much of a problem as one that never changes but identifying the next big thing and turning it from threat to opportunity by adapting and evolving the core structure of an organisation is going to bring dividends.
4. Social
Social Media is here to stay and the majority of organisations have embraced the changes and exploited the opportunities it presents effectively. What is interesting is the change of use with business leaders.  In 2015, according to a report from CEO.com, 61% of Fortune 500 CEOs had no social presence at all. Today, according to a report by Weber Shandwick, of the world's 50 largest companies, 66% of their CEOs are now actively engaged on social media.
Threats to organisations from Social Media in 2017 vary from being out of touch with the customer to simply over doing activity or using the wrong channels. Opportunities for marketing, talent engagement and corporate reputation are abundant but when a company advertises for an Emoji Translator, perhaps things have got just a little out of hand?
5. Artificial Intelligence
Scaremongering headlines tell us that we're all going to lose our jobs to robots which is unlikely, but it is becoming clear that artificial intelligence is already changing the way we work. Time-consuming repetitive tasks are becoming streamlined through AI technology, so that the human role can become more strategic.
Finding the best way to take advantage of this new technology is easier said than done when AI is evolving and becoming increasingly sophisticated at such a dizzying speed. Investing in an ever changing technology is a risk when systems are in place that already work well.
Tom Davenport, in the Wall Street Journal, predicted that "smart leaders will realize that augmentation—combining smart humans with smart machines—is a better strategy than automation."
Finding the balance between artificial and human intelligence, while maintaining an engaged, unthreatened workforce is the big challenge of 2017.
6. Virtual/Augmented Reality
We're at the stage of this technology where most people don't know much about VR except you seem to have to wear diving goggles. According to the Virtual Reality Society, 'virtual reality is the term used to describe a three-dimensional, computer generated environment which can be explored and interacted with by a person. That person becomes part of this virtual world or is immersed within this environment and whilst there, is able to manipulate objects or perform a series of actions.'
The basic difference between virtual and augmented reality is that the former completely locks you into the world, while the latter puts things on top of it.
Virtual Reality is in its very early stages of development, but judging by the exponential speed with which tech innovations in general are developing, we haven't got long to figure out how best to keep this opportunity from becoming a threat.
2017 is the year of great workplace opportunities
Finding new ways of doing things can be liberating and productive. Convincing those around you it is the right thing to do and keeping them motivated to change takes skill. 2016 has been a year of uncertainty and fundamental changes. Let's hope 2017 brings peace, stability and prosperity to everyone. Happy New Year.