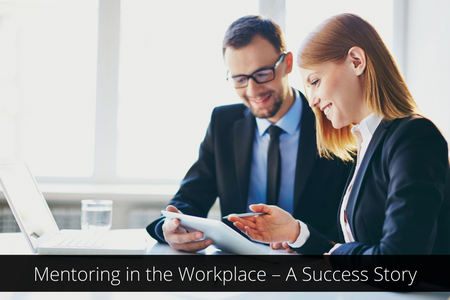 How do you improve employee retention, engagement and productivity, encourage internal promotion, improve leadership styles and inter-generational relations in a single step? No, it isn't with a magic trick, you simply introduce and encourage a mentoring programme.
There are so many benefits, it is a wonder it isn't part of the fabric of every organisation. Setting up and running a mentoring scheme is not difficult or expensive and the benefits can be significant, as can be seen in an in-depth study at Sun Microsystems (now Oracle), a technology company based in California.
Evidence
The study, conducted by Gartner, used statistical analysis to examine the financial impact of mentoring. They concluded that "mentoring has a positive impact on mentors and mentees, producing employees that are more highly valued by the business."
In one of the largest studies of its kind, researchers monitored 1,000 Sun employees over a five-year period and found that 25% of employees in a test group who took part in the company's mentoring program had a salary grade change, compared with 5% of employees who did not participate in the programme, 72% of mentees were retained (compared with 49% of employees who were not mentored), and the mentored employees were promoted five times more often than those not in the programme and retention rates were much higher for mentees (72%) and mentors (69%) than for employees who did not participate (49%).
The benefits are not just for mentees either, as mentors report improving their leadership style, gaining a better understanding of new technology, connecting with younger generations, and having an improved understanding of the dynamic lower down the organization. For mentees, the key benefits are gaining valuable careers advice, improving access to training, getting support, encouragement, advice and guidance from people who have once been in the same position. Mentoring can transform an ordinary co-worker relationship into a mutually beneficial and meaningful bond for both parties.
How to get one
So, how do you become a mentor or mentee if your organisation doesn't offer a formal programme? There are several ways to go about it depending on your industry. Informal connections can often be the best way if you find yourself 'clicking' with someone at a networking event or industry conference and the relationship develops naturally from there. Formally, if you work in the Third Sector there are Leaders Together which is a London based mentoring project, matching leaders from small charities, social enterprises and community groups with senior professionals from a wide variety of backgrounds. To find out about other schemes, search online for professional membership bodies or your HR department may have recommendations. Social media sites such as Twitter, LinkedIn or Facebook can also be great sources.
Mentoring case studies
Deutsche Bank, on emerging from the financial crisis, realised that a diverse workforce had become even more of a priority for financial service companies. Their research revealed that female managing directors were leaving the firm more often than their male counterparts, so they created a sponsorship program aimed at assigning women to critical posts. Female executives were mentored by executive committee members, which raised their visibility, but also ensured that they would have a powerful advocate when promotions were being considered. At the end of the trial, one-third of the women were in more senior roles, and another third had been deemed ready to move up by senior management. In the company-wide mentoring scheme in 2015, around 2,800 mentors clocked up 27,300 hours of mentoring.
KPMG's "Leaders Engaging Leaders" pairs 60 top managers with members of the management committee, the board of directors, and national managing partners. This provides their employees with an opportunity to engage with a cross-section of leaders they wouldn't normally see in their working day, encouraging them into leadership goals. Several people in Leaders Engaging Leaders have taken on more significant leadership roles, including one who has joined the board of directors.
KPMG has launched other initiatives, for example, a scheme aimed at encouraging more women to consider a career in tech. The scheme, named 'IT's her future', according to Nigel Slater, KPMG's head of management consulting, was introduced to level the playing field for women working in technology. "Providing open access to senior mentors is vital to helping the next generation learn the skills they need to progress – whether they be male or female. While visible female leaders and mentors are vital, involvement of male mentors also demonstrates that endorsement of diversity and a commitment to gender parity comes from both sexes at a senior level. Above all, we need to ensure the next generation of female leaders feel empowered, and inspired, to apply for positions of responsibility. Ultimately, companies need to show that they believe in the potential of all members of their workforce, irrespective of gender."
Limitations
If there are any downsides to mentoring it would be the extra demand on your time both for mentor and mentee. Keeping up with overflowing email, constant meetings, and time-sucking conference calls are challenging enough without having to schedule time to meet with your mentor/mentee on a regular basis. But often, these meetings can be the source of a solution to time pressures as one or other of the pair have discovered a time-saving system that can make all the difference. Successfully prioritising workloads can also come with experience and both parties might come to enjoy the little oasis of calm their meetings can produce.
The verdict
Mentoring is not just to encourage minority groups up the career ladder, it can benefit anyone who has ambitions to improve their professional standing. By sharing our experiences with others, be it successes or failures, and helping them learn from our mistakes, we will positively contribute to the personal growth of individuals and the economy as a whole. A win-win whichever way you look at it.
At Chapple we specialize in sourcing candidates in external and internal communications, employee engagement, change and business transformation roles.
Contact us on 020 7734 8209 for more information about how we can help you find your next role or indeed find the right people for your business.