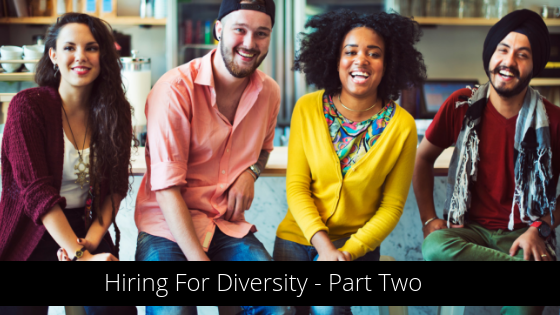 In part one which you can read here, we focused on what's new in the diversity and inclusion arena around neurodiversity and discussed some very encouraging new initiatives within talent acquisition. In part two, the focus is on hiring for diversity generally. While companies are finding it increasingly difficult to hire qualified employees, many people who have some type of disability are facing huge challenges in getting hired. Perhaps it is time for hiring managers to look again without prejudice at the readily available talent. In the UK, company profits rise by 3.5% for every 10% increase in the diversity of the executive teams, so it is proven to be a positive initiative.
Positive discrimination
So, can you go out of your way and only hire people who are underrepresented in your organisation, a form of positive discrimination? Basically, no. Positive discrimination is generally unlawful in the UK and is best described as the act of giving advantage to protected groups in society that are often treated unfairly because of a Protected Characteristic.
Slow progress
Reducing bias within the Protected Characteristic of race has been shockingly poor. In the US, a 2004 study showed that black applicants were found to be 15% less likely to receive call-backs for jobs than equally qualified white applicants. A very similar experiment conducted in 2018 showed pretty much the same result: a 16% difference in chances of a call-back. Virtually no progress was made in the past 15 years, in the US or the UK.
Blind recruitment
Following the lead of accounting firms such as Deloitte and Ernst & Young, as well as governmental and financial institutions, some firms are using computer programmes specialising in removing information from resumés based on hiring goals. The software company GapJumpers has created a programme that allows companies to make an online test based on skills required for the job, and instead of viewing the CV, a firm can see applicants' scores and can select candidates based on the scores alone.
Lisa Tomlinson, Head of People at Fircroft College has been behind a fundamental change in their culture to ensure inclusion is embedded in all processes, achieved through a highly successful transformational change programme, embedding values and inclusive practices, such as recruitment, into the culture of the organisation. Their methods have included training in unconscious bias and equality, diversity and inclusion and opening up recruitment processes to include a blind application process and, more importantly, advertising in many different places including job centres and network partners, such as the Asian Business Chamber of Commerce. With learners having high levels of diversity, it is important that the workforce reflect this; as a result of the changes BAME representation in the workforce has increased by 13 % over the last 18 months and now 46% of the workforce come from a diverse background. As Lisa explains "a culture of inclusion and Learning and Development are key in keeping an organisation diverse, and enabling us to build a diverse talent pipeline for the future".
At The National Gallery, RoseMarie Loft, Head of HR, is helping to create a more diverse workforce by changing the assessment process into one which is highly objective and delivers diverse candidates, all of whom have the skills, abilities and experience to do the role, regardless of their backgrounds. Their new approach at the recruitment stage involves no names or educational details, an application form rather than a CV and a scoring system based on skills and experience needed for the role. RoseMarie believes that diversity starts at home, and has ensured her HR team is extremely diverse, having people from all nationalities, faiths, genders and ages. Their successes include completing Levels 1 and 2 of the Disability Confident Scheme and taking on a disabled intern each year through Leonard Cheshire's Change 100 programme.
Hiring and providing for hidden disabilities
Some disabilities are not obvious, but they are common, and can affect an individual's work and daily living. You can see a comprehensive list here, but they include everything from vision impairment, multiple sclerosis and cancer to arthritis. The main reason to disclose a disability is to be able to request reasonable workplace adjustments, in order to carry out your job. There is no requirement to disclose you have a disability otherwise. As an employer, you can ask if a candidate needs an adjustment to the recruitment process to allow them to be considered for the job, or you can wait to be told.
However, shocking new research by the charity Scope, found that almost half of disabled people who are in work, feel at risk of losing their jobs because of their disability, and also experience bullying or harassment. Emma Satyamurti, a partner in employment and discrimination at law firm Leigh Day, says she often finds people with hidden disabilities don't trust their employer to be supportive if they disclose their condition, but also it can work the other way, when an employer may want to help but doesn't know what to say or do.
Unconscious bias
Unconscious bias is everywhere and is perfectly normal. We tend to favour those who share our own physical characteristics or views without realising it, but it could be discriminatory when the unconscious bias relates to a Protected Characteristic. The brain uses shortcuts to speed up decision making, and unconscious bias is a by-product. The trick is being aware of your bias and avoiding it clouding your judgement. In the workplace, it can influence decisions in recruitment, promotion, staff development and recognition and can create a less diverse workforce.  ACAS have some very helpful advice on how to overcome unconscious bias.
Sustaining a diverse workforce
Actively attracting a diverse mix of candidates is great, but if they are entering a work environment that doesn't support or interest them, a diverse workforce will not be sustained. The culture needs to change too so that diversity recruiting isn't existing in a vacuum but is part of a pre-organised diversity programme throughout the organisation. Prospective employees from a minority background will be more encouraged to apply to a company if they can see evidence of a diverse workforce already in place or at least visible efforts to improve.
The Candidate Experience
What can you do as a candidate with a disability or Protected Characteristic to ensure you're not discriminated against? Should you declare everything on the application form, or should you remove details from your CV that could invite discrimination? How do you know whether you have not been selected for the role because of discrimination or simply because there was someone more qualified? And, if you do get selected, how can you be sure you won't be discriminated against by managers or colleagues or find the 'reasonable adjustments' to the workplace are not adequate? There are many questions but unfortunately not many answers yet. Some companies are really blazing a trail in this area, one being LinkedIn, and their Head of Diversity, Rosanna Durruthy has produced a guide to creating and maintaining a more inclusive workforce.
Conclusion
Organisations need to be creative when recruiting if they want to improve diversity across their workforces, especially in entry-level positions. According to The 5% Club only 11.3% of apprenticeships are from non-white applicants and 10% are by people with learning difficulties or disabilities. Although women represent 54% of apprentices generally, only 8.1% of those in science, technology, engineering or mathematics (STEM) programmes are female.
Virgin Media, Philips and JCB along with the charity Scope have urged UK companies to sign ground-breaking #WorkWithMe pledge and come together to accelerate social change for disabled people. They are urging businesses to take urgent action and pledge to tackle the UK's disability employment crisis. The pledge is available to sign up to at www.workwithme.support and there is support available on the Scope website.
There is clearly a very long way to go, but we have made progress in the last decade too, and diversity and inclusion are now part of the mainstream recruitment agenda. Keeping the debate alive and putting pressure on the government to contribute to improving diversity in the workplace is all going to help.
At Chapple we specialize in sourcing candidates in external and internal communications, employee engagement, change, HR and business transformation roles.
Contact us on 020 7734 8209 for more information about how we can help you find your next role or indeed find the right people for your business.