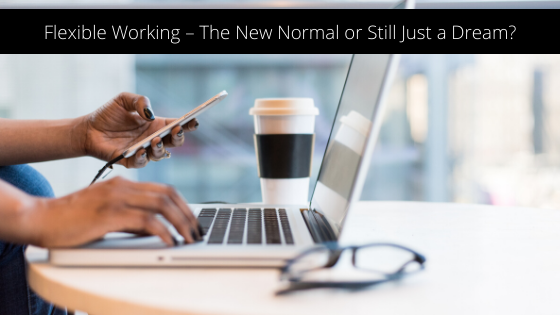 You see the words 'Flexible working' bandied about a great deal these days and it is hard to avoid articles that enthuse about the concept. But, what does it actually mean for the average worker and how easy is it to find a job that offers flexible working as standard?
According to Citizens Advice, 'Flexible working is the name given to any type of working pattern which is different from your existing one. There are two ways to ask for flexible working; either a statutory request or a non-statutory one. To have the statutory right to ask for flexible working arrangements, you must be an employee and have worked for your employer continuously for 26 weeks at the date on which you make your application. If you don't qualify, you can still make a non-statutory request which is just less legally binding. It is therefore advisable to make the request in writing so that it is clear what has been asked for.
There is also a possibility that the law will change shortly, as there is a new law being proposed by MP Helen Whately. It would mean flexible working would be offered as default for jobs and employers then must "opt out" if a job cannot be done flexibly. All workers should have the legal right to flexible working – and employers should have to offer it in contracts by default. This has twice been raised in Parliament by the MP with the proposal that flexible working should be the default position for all employees – not a benefit that individuals have to actively request. The founder of the website Mother Pukka, Anna Whitehouse, who launched the campaign Flex Appeal in 2016, has welcomed the move.
Flexible working can take many forms, from compressed hours to working remotely and will suit most needs and different types can be found listed here. The advantages to the individual employee should be obvious to anyone, but the advantages to organisations are maybe surprising. In 2018 a company in New Zealand switched all its 240 employees to a four-day week, without reducing pay. Results showed that productivity increased, even though employees were working for 7.5 hours less a week.  And employees recorded a better sense of work/life balance (54% before the trial to 78% afterwards), while stress levels also went down.
Here in the UK, we work some of the longest working hours in the EU, with employees working an average of 42 hours a week last year. But, according to a survey by the Trades Union Congress other countries work fewer hours, but get more done. In Germany, where full-time employees work 1.8 hours less a week, productivity is 14.6% more than in the UK, and in Denmark, which has the shortest hours in the EU, productivity is 23.5% higher.
Many employees list flexible working as one of their most preferred workplace benefits (61%), after salary (86%) and holiday allowance (75%). 'The State of IT – The Employee Verdict' report claims that 71% would like the option to work remotely, citing a better work-life balance (60%), reducing transport costs (47%), and carbon footprint (35%) as their biggest drivers for doing so. But there is a strong, unmet demand for more flexible jobs. 87% of people want to work flexibly, but only 11% of jobs are advertised as being flexible even though many have the Statutory right to do so.
Advantages
The advantages of flexible working seem to swing both ways, for the employer and employee. The CIPD found that if workers were given the freedom to work flexibly, they were more engaged, more likely to speak positively about their organisation and less likely to leave.
The business case for flexible working:
Saving money on renting office space – according to Lambeth Council, if  60% of its staff or fewer, are in the office at any one time, they can make an annual saving of £4.5 million per year on running costs.
Attracting talent – the talent pool to draw from will be significantly increased if an employer offers flexible working for every new vacancy
Retaining talent – hiring a new employee is expensive. Offering every incentive to keep the great staff you already have must be a good thing.
Improving productivity – as mentioned above, the statistics prove the business case for flexible working, when productivity actually goes up, when working hours, (but not pay) are reduced. Recent research from the University of Oxford has found that happy workers are 13% more productive. The researchers from Saïd Business School, University of Oxford in collaboration with BT found happy workers do not work more hours but are more productive in their time.
Improving diversity – many highly skilled women leave the workforce mid-career to care for children or relatives, creating a 'diversity vacuum' at the top of many organisations, and are often reluctant to come back to a workplace that offers no flexibility. The good news is that the proportion of roles with salaries of over £80,000 advertised with flexible working options has increased to 16%, up from 9% in 2018 and 5% in 2016.
It helps companies achieve their carbon neutral goals, as working from home cuts travel and therefore emissions.
Disadvantages:
There can be some disadvantages in the early stages of setting up new flexible arrangements. Working from home can introduce IT security risks but technology available now means that it is an easy fix. Making sure that GDPR data protection regulations are met can also take time and some extra training, but is not insurmountable. Similarly, keeping track of hours worked can be a challenge for the payroll team, but these issues are likely to be easily ironed out in the initial stages of changing to a new flexible working regime. And finally, good internal communication will overcome any possible feelings of resentment felt by other staff who might feel that they're not being treated fairly.
The most difficult issue to resolve is with those professions that are service related and require a physical presence to do their jobs such as airline pilots, retail workers or health professionals. Workers in these types of professions clearly can't work from home, but there are other options that can be made available to them with some planning and a willing attitude from those senior managers who have the final say.
Case studies:
A group of Chief Executives and Chairmen from leading employers got together to consider the issue of workforce agility and how UK business might support the growth of workforce agility across UK plc. As a result the Agile Future Forum (AFF) was formed with 22 founder companies all different in terms of sector, size and location, but with a common view that workforce agility is generating significant and tangible economic benefits for businesses.
One of the founding members, EY, ranked as one of Top 10 Best Big Companies to Work for in the UK, by The Sunday Times, said of the initiative:
"We have used flexible approaches to work for many years. We have found that it enables a higher level of client service, makes our people happier and saves money. We also see more opportunity to expand from where we are to make flexible working truly 'business as usual', ensuring that our firm is as agile and adaptive as possible, something that is simply essential in the ever changing, fast paced and increasingly global business landscape of today."
EY has also been working with Timewise, a flexible working consultancy for a number of years, to champion and showcase the value of flexible working to UK business. They have shared their insights into why it's important and what the impact has been, so that other businesses can benefit.
At Lloyds Bank, also a founder member, they feel that "Agile working is more than working flexibly — it's about empowering and entrusting colleagues to think creatively about how, when and where they work, to deliver the best outcomes."
Over a third of their workforce already work in an agile way, and they have plans to invest £1 billion over the next three years in a strong technology infrastructure that will mean they can embed agile working into the business.
Conclusion:
We have recently canvassed the opinions of a variety of individuals across industry. With very few exceptions, they have said that, despite support from senior execs for flexible working, middle managers are often blocking it because of outdated views, lack of trust in direct reports and lack of skills in remote workforce management. This is despite attrition being clearly linked to lack of flexible working practices.
Our research has shown up a clear disconnect between the official line in many companies and the reality which seems to be dominated by a lack of trust in employees from middle management. There appears to be little evidence supporting the lack of trust and plenty of evidence of how with just a little investment in the wellbeing of employees, you get rewarded with better productivity, loyalty and talent retention.
In a recent article from Management Today offering 7 quick career tips from the C-suite, Chris Pieroni, operations director, of Workspace says the most important lesson is to have trust.
"You have to make people feel very comfortable. They respond magnificently when they feel like you're relying on them, you trust them, and you respect them."
Research has proved time and again that flexible working can benefit everyone and yet we have infantilized the workplace over the years, and middle management are not being shown the benefits or being offered training to help them overcome their outdated views.
The few companies and Government departments that have embraced flexible working so successfully are currently at a huge advantage in the current critically scarce talent market, and will reap the rewards of being able to have their pick of the best talent, all of whom are actively seeking out flexible working.
At Chapple we specialize in sourcing candidates in external and internal communications, employee engagement, change, HR and business transformation roles.
Contact us on 020 7734 8209 for more information about how we can help you find your next role or indeed find the right people for your business.