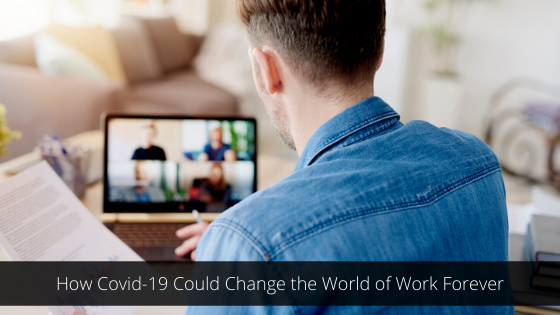 Making predictions are difficult at the best of times, making one during one of the most momentous disruptions to our working and personal lives probably ever seen in a generation, is harder still. The world of work has changed and is still changing. That much is certain. Companies, both large and small have been faced with a fast-moving situation and forced to react quickly, and on the whole, they have responded with impressive efficiency. Within only a few days, entire workforces are now safely working from their homes.
What we have learned
We have learned that the vast majority of UK businesses are more flexible than they thought or were prepared to admit, and some are more ruthless with their employee's wellbeing than anyone realised. The UK government were quick to introduce a welcome and comprehensive set of financial support packages for workers and companies alike, and while some companies were offering extra practical support to help people transition to working from home for example allowances to buy a proper office chair, others were installing spy software – capturing keystrokes, logging websites visited and taking a screen shot every ten minutes!
We have also learned that there have been many different corporate responses to this crisis. What we are yet to discover is how strong the collective public memory is and how prepared people are to push against those organisations who showed no compassion. As the UK Chancellor of the Exchequer Rishi Sunak said: "Now more than at any time in our history, we will be judged by our capacity for compassion. When this is over, and it will be over, we want to look back on this moment & remember the many small acts of kindness, done by us and to us".
The digital transformation of companies, even large ones is currently being led by an outside force, something that would have been unthinkable a year ago. But some companies were more prepared, more agile than others and were able to change production overnight, for example Brewdog who changed their production line from beer to hand sanitiser with great success. Will all companies continue to embrace agile working or even introduce the concept post CV19?
Of course, the demand for flexible working from employees has been there for some time, particularly with Millennials, where 92% of them identify flexibility as a top priority when job hunting, yet fewer than 10% of UK advertised jobs previously offered flexibility; the gap between supply and demand was huge. It is important not to confuse enforced home working as we have now in many cases with flexible working as is desired by many, but at least there is now much evidence that flexible working can work.
Back to 'normal' after this is over or has everything changed for good?
The appetite for change was already there, this situation has just exacerbated it and proved to many sceptics, that it is possible to change and still be successful. But will we learn the lessons from this crisis and benefit from them or will this be a missed opportunity as people recover from the trauma of lockdown and health scares? There are positive outcomes from the horror, and it is easy to miss them.
Skype/telephone job interviews in the early stages of recruitment have been improving diversity and length of time to hire
Reducing the time taken travelling to face-to-face meetings & conferences when it can all be done on Zoom or equivalent software, not only saving company time and money, but also improving the pollution levels across the planet.
As Euan Semple pointed out on LinkedIn recently: "Not so long ago we were demonising our devices and social media as driving us apart. Now they're all that's holding us together!"
Our ability to communicate with and care for each other has improved and the shared experience has created a sense of community, even on a global scale, that was not there before.
Of course, there are negatives, and it would be wrong not to acknowledge the terrible death toll   and negative impact on some individuals and communities, but there are also other, less obvious problems:
Job security – the gig economy, often sold as the new way to work, has been exposed as extremely vulnerable
New, increased reliance on technology makes us more susceptible to other new threats
Dangerous consequences of censorship, the constantly morphing spread of disinformation, supply chain vulnerabilities and the risks of weak cybersecurity.
Communications
During any sort of crisis, it is already acknowledged that good company communication, both internal and external, delivered quickly, with clarity and authority is absolutely vital, never more so than now. Keeping good communications going, and to a newly remote workforce is challenging but essential to address the new challenges of workforce isolation and motivation. The Institute of Internal Communication in an uncanny and serendipitous way, have just released a major report – the IoIC Future of Work Trends Report, written before the crisis but very relevant and insightful to now none the less. They quote the author Ben Horowitz who describes the link between communication and trust: "In any human interaction, the required amount of communication is inversely proportional to the level of trust […] As an organisation grows, communication becomes its biggest challenge." Leaving the IOIC to conclude "As the places in which we work continue their journey of disruption and transformation, the need for robust, clear and cohesive communication has never been more critical." And "For organisations to survive the convergent challenges of the 21st century, leaders must prioritise world-class internal communication at the epicentre of transformation. Those that don't will simply fail."
Technology
The pandemic has laid bare the many vulnerabilities created by the world's increasing dependence on the internet. Without it, the ability for the global workforce to adapt to the new ways of working would be very restricted, if not impossible. More thought should be given to making sure that we can't so easily find ourselves at the mercy of blackmailers or hackers.
Being "Agile" has become the key to survival for businesses both large and small and has now become as much a mindset as a methodology. We have suspected for a while, but had it confirmed in a few short months that companies of the future will need to be 'shape-shifters', constantly morphing and adapting to meet new challenges. World-class internal communication will undoubtedly be the glue that holds these increasingly transient structures together. How we optimally communicate with one another to meet organisational objectives, will need to be a continuous work in progress.
What's next?
A study into the attitudes of employees who are usually not allowed to work remotely, or who only did so rarely prior to the Covid-19 outbreak, showed that 68% feel they are either more productive or equally productive from home, and 31% said their work-life balance had improved since working from home. However, workers were not confident the experience will convince their employer to change their flexible work policies long-term with 47% saying their employer would ditch widespread remote working once the Covid-19 pandemic is over, reverting to their previous policies, and only 28% saying they don't think their employer would go back to inflexible working.
Jan Schwarz, co-founder of people analytics company Visier, which commissioned the research, said: "The worst thing that companies can do is ignore what they have learned about their workforce and how they like to operate. Companies who have resisted the new world of work until now have had their worlds turned upside down, but there is a real opportunity for HR leaders to help them continue their digital transformation,"
Bobbi Thomason and Heather Williams made the point recently in the Harvard Business Review: "Executives and managers have the opportunity to choose quality work over quantity of work. They can value the creative ideas that emerge after a midday hike or meditation session, rather than putting in face time at the office. They can stop rewarding the faster response over the better response, or the longer workday over a more productive workday."
The opportunity is there to emerge from this crisis with both healthier, happier and more productive employees and better performing organisations. It is up to those in charge to use this downtime to recognise this opportunity and embrace it.
At Chapple we specialize in sourcing candidates in external and internal communications, employee engagement, change, HR and business transformation roles.
Contact us on 020 7734 8209 for more information about how we can help you find your next role or indeed find the right people for your business.